The topic? The statues of Robert E Lee, Jefferson Davis and General Beauregard in New Orleans and whether Mayor Mitch Landrieu and the City Council are doing their job, primarily fighting crime in the middle of one of the worse murder waves in city history.
As background, both Crouere and I agree that the Confederate statues in question are part of the city's culture and history and they should not be taken down or replaced. I believe the city can put up a placard reminding the world that these men, for whatever reason, fought for a cause that today would not be popular--slavery. Likewise, I believe that a community should only remove a statue or monument if it believes the edifice is repugnant to most of the general public, and even then, removal should be done in only extreme circumstances.
However, the snippet below, focuses upon a different issue altogether--whether Landrieu and other city leaders are doing harm to the community because of the controversy s become a unnecessary diversion in the middle of one of the hottest crime-seasons in history.
Here is the transcript of that segment and we believe that you will enjoy the "respectfully heated" discussion over this timely issue.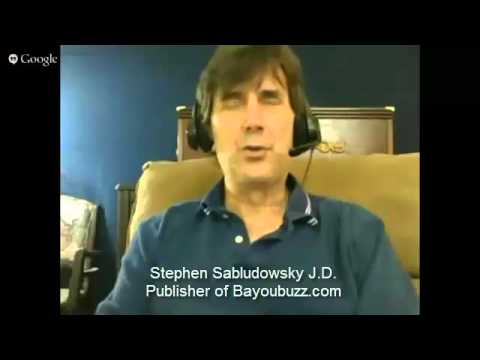 CROUERE: Keep the freaking statues, focus on the problems, the real problems that the city is facing, don't divide the city, don't be grandstanding about it, Mitch Landrieu, you realize that every day in the month of July, Steve there has been a murder, I can't believe that we're not focusing on the murder rate in the city of New Orleans. He's going before the city Council and he wants to murder statues. I mean, my goodness how crazy this is.
SABLUDOWSKY: Well, Jeff again, to say that we should not be concerned about other issues, and we talked about this last week I mean, why don't we just..
CROUERE: We can handle both. We can't multitask. We don't know how.
SABLUDOWSKY: Come on
CROUERE: We can't do it. If you can't focus on the number one problem, how n the world are we going to focus to focus upon something that's not even on the top of anybody's list-- except for a few radical activists
SABLUDOWSKY: Jeff, why, don't we just...I mean, that's ridiculous. Why don't we cancel Saints football season, why don't we cancel New Year's Eve here in the French quarter, why don't we cancel Mardi Gras
CROUERE: But you say we can handle it all, but we're not Steve. We're not. We're When not making any improvements
SABLUDOWSKY: What I'm saying
CROUERE: The streets are getting worse. They don't even fix the streetlights
SABLUDOWSKY: Jeff, to the extent that you're saying that what happened in South Carolina has nothing to do with what happened here, honestly truly, a.diversion of this nature really has nothing to do with people, angry people, people who are drugged, who just want to kill, and there's not much that you going to do about trying to
CROUERE: Here is the connection, here's the connection...here's the connection
CROUERE: The mayor and the city Council, should be focused like a laser beam, on the number one problem facing New Orleans and that is of violent crime rate. The're taking up valuable time, resources, energy, not dealing on that problem but dealing with monuments from the Confederacy. That's how it's connected. Their diverting resources time and energy as a resource to focus upon something that I don't think up until the shooting in South Carolina was an issue to more than one or two people. That is the tragedy in this. That is the connection. That is why I indict Mitch Landrieu, for, what I think, his abysmal leadership of the most important issues facing new Orleans and definitely the diversion, the distraction onto this. We can multitask? No we can't.
SABLUDOWSKY: Jeff you don't think the diversion during, say, Saints football season and Mardi Gras and all that, you don't think that's gonna take a whole lot more time , now look...it's certainly worth it, okay
CROUERE: Steve those are things
Both CROUERE AND SABLUDOWSKY: Those are things that bring people together.
SABLUDOWSKY: I understand that
CROUERE: This divides people
SABLUDOWSKY: I understand that. It divides some people, others don't really care about it that much
CROUERE: A lot of people care
SABLUDOWSKY: Some people care a lot on either side
CROUERE: I think a lot of people care about
SABLUDOWSKY: I'm just saying the argument about you can do one thing because you got to focus on 120% on something else, I think...