(Photo: Scott Angelle)
Read part 1, published yesterday. Here is part 2:
SABLUDOWSKY: I really do encourage your listeners to go to Bayoubuzz, to look at the article and to make their own decisions--the article name is "Analysis: Angelle leading Vitter in the Louisiana governor's race--- with a question mark? Again, I'm not saying, I'm not saying
CROUERE: You're throwing it out there
SABLUDOWSKY: I'm throwing it out there, because, this is a poll. I'm also saying take a look at the discussion in the sense that Kyle Ruckert of the Vitter campaign in and the poster are having about the reliability about the credibility of the poll. That is more important to me than anything that I might say because and is basically encapsulating and saying, look--what other information do we have out there? If Kyle is going to, and he's correct, going to pick this poll apart, which I hope he and others would do but should we have the right to do the same with other polls that are would do and others would do, then shouldn't we have he right to do that with the other polls that are out there? And, we don't have that information. That's the main point that I'm making here. So, does Angelle have a chance of being ahead of Vitter? Yeah, I wouldn't bet my money on it right now
CROUERE: what's driving his increase in support. Obviously he's got some momentum, and what's been the cause of that? Has he been doing a lot of media statewide? Is his message connecting? What you think is working for Angelle?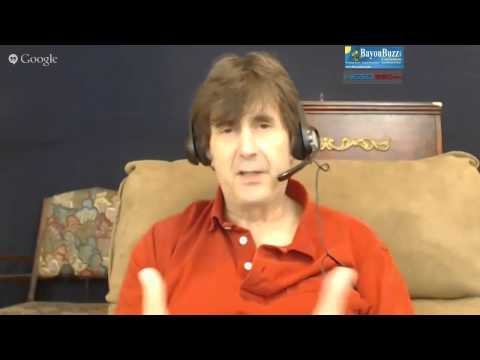 SABLUDOWSKY: Well that's something, we don't know for a fact, the way the pollster had framed it was that Vitter was dropping on his own, that it wasn't really the advertising, although the advertising did have some basis to it. So basically, and I have some numbers here, that Ruckert sent to me and I think he made a really good point, I really do--and that is--if you look at the advertising that Angelle did in May, it was substantially more than the advertising he did in July, so why is it in July that Angelle has jumped up-- 10 points!
CROUERE: Versus the previous months
SABLUDOWSKY: And I think it's a legitimate point. Now, here's the answer from the pollster standpoint: that Vitter is declining on his own, that people are moving away from Vitter. Is that true? Well those are the numbers that the other polls indicates but not to such an extreme. Three points in two months versus 10 points over one month.
CROUERE: I've just been unimpressed with the campaign, unimpressed with the candidates, unimpressed what I've seen so far--the only one seemingly making moves is David Vitter. So I don't know what Lieut. Gov. Jay Dardenne is doing. I think that Angelle is maybe doing some advertising, maybe--in other areas of the state more than here. And you said John Bell Edwards is trying to consolidate his votes but I haven't seen much, it's been sort of boring. But, maybe it will pick up. We talked last week and I think those it's kind of exciting that maybe John Georges would enter the race. And then after our discussion, we brought it up, all these other media outlets picked it up and that seems to be the hot story right now, he may jump in, and I wouldn't be surprised if he does, Steve.
SABLUDOWSKY: Right, will let me throw something out to you about that, and I was going to make this point--and that is--John Georges is one of the individuals that helped pay for this poll. So he's one of, as I appreciate it, one of 15 to 20 individuals who are part of this group, and you seem different groups from around the state, they parlay together, they put up the money, they want to see what's happening. In George's group you already have some dissension, from the standpoint that in May, I think it was, some people from Angelle took numbers that were favorable to Angelle and presented the information publicly. The pollster had to go in there and say no no no, this is not correct. And then in June the same thing happened but this time it happened with Edwards, and then the pollster, Verne Kennedy had to do the same thing--that's the story that we wrote about and talked about last..
So here, so you have, Mike Bayham who writes for The Hayride, and Mike is a friend of mine, a friend of yours, but saying look, Georges is pulling the strings-- that is coming up with this poll that indicates that Angelle is ahead
Well excuse me, you think that the other people involved in funding this poll is going to allow this poll to be dominated. They have meetings, they discuss the poll, they have the poll in front of them, they a meeting last week, everybody had the poll
CROUERE: We talked about crime, you think that common core would be one of the big issues in the governor's race, have you sensed that, or not?
SABLUDOWSKY: Well the only thing that's has been out there that I know of is the poll of Bernie Pinsonat in the spring where common core was a very important number, that the vast majority of people were against it, opposed to it, I feel confident that that is going to be an issue, I feel confident that will be an issue, I feel confident, the Vitter campaign is going to use that issue against Jay Dardenne, and I feel confident that he's going to use the Bobby Jindal issue against Scott Angelle.
So these polls are very fluid. We haven't seen any real advertising yet. Vitter's got nine, maybe $10 million
CROUERE: It's coming
SABLUDOWSKY: But here's the problem. Vitter's numbers, or at least according to this poll , and according to other polls, Vitter is at 31, at Max
CROUERE: And with that Steve would going to have to conclude, we're out of time, and that is an interesting point, he's not growing, it could be trouble for his campaign, thank you...