As soon as The Donald launches a new "Trumpette" or shall we say, Trump tweet, a shout is heard around the world.
What about the other candidates, say, like our own Louisiana Governor Bobby Jindal?
Well, he gets his exposure, sometimes. When he insisted Europe was infested with Go Zones while Fox News said it was not, his name went up in lights on tweetosphere. Then, there was the time he tweeted the video he took of that hidden camera on that tree when he popped the question to his kids—"hey, you want to go to Iowa, don'tcha?"
So, not exactly. But he did entice his offsprings with a trip if they were good.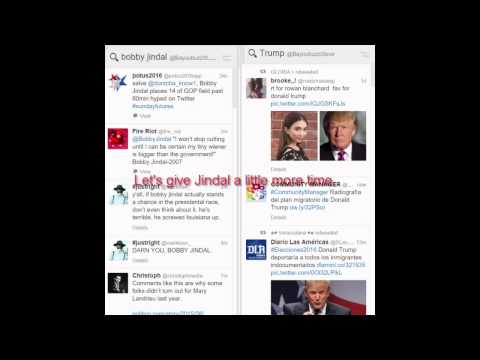 Jindal and Trump jumped into the presidential race within one week of one another. Maybe the governor should have made his announcement going down an escalator, as did the real estate magnate, for, as we know, the latter is taking off and the former is still on the platform.
In fairness, Jindal is not the only one being covered in the dust of Trump's smoke.
Trump is currently capturing 25 percent of the vote (according to the latest Fox News poll). Jindal? Well, he's at 1 percent, but that means, he has more room for growth, right?
But, to get a real idea of the political race between the two candidates, and most likely between Trump and probably a number of the lower tier candidates, I decided to randomly capture the twitter feeds (within moments of one another) where Trump and Jindal were being mentioned.
Take a look at the video: